Free PDF Tools Online
WPS Office®
Best online PDF editor, converter, merger, form filler and organizer for easy editing page, text or layout on pdf documents like Word for FREE in seconds.
Download WPS Office and Edit PDF
Download WPS Office to get more PDF management features such as OCR (image scanning and conversion), adding watermarks and e-signatures, and PDF to image conversion.
Free Download for PC
WPS Office for
Windows
Download WPS Office Desktop Editor to get a lightweight PDF tool that provides complete solutions for all PDF problems.
Free Download
4.8MB / Jul 4 2022
WPS Office for
Mac
WPS Office, perfectly compatible with the macOS system on Mac, and supports Intel and Apple chips to help you edit PDFs easily.
Free Download
553KB / Feb 6 2023
WPS Office for
Linux
WPS Office is a free office suite that supports Linux. Download the WPS Office app to access PDF tools anytime.
Free Download
Deb Package
Rpm Package
Free Download for Mobile
WPS Office for
Android
Google Play Best of 2015
WPS Office for
iOS
App Store Best of 2015
About WPS PDF
WPS PDF is a useful all-in-one PDF online tool. It is easy to edit, convert and manage PDF files, you can try it for free. For efficient PDF processing, please use WPS PDF.

WPS PDF is also compatible with a variety of file formats, including Adobe PDF. PDF is now a component of WPS Office application, providing collaborative viewing, annotation, and editing.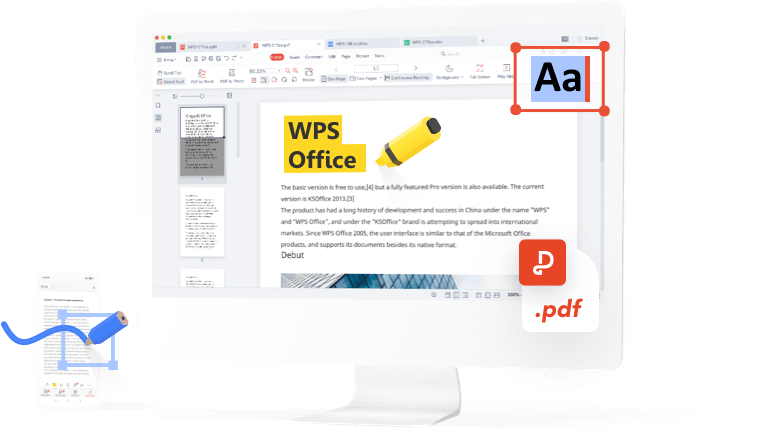 PDF Guide - How to Instructions
WPS PDF Blog
PDF Blog helps you fully understand how to use PDF tools, provides you quick access to software news, recommends different types of office software worth downloading, and offers you information about PDF version update.
More Articles >
WPS PDF VS Soda pdf | Which PDF Editor is Better?

WPS PDF VS Soda PDF What is Soda PDF? Soda PDF is features-enriched app that provides you with the free services to create PDFs from any popular file format, edit existing PDFs and to convert PDF to other formats like Word, Excel, PPT, image, HTML and vice versa. With Soda PDF you can merge multiple files into a single PDF, or to split a PDF document into several other files, such as smaller-sized PDF files and images files. All these services are also available on Soda online platform....

Quick Overview of WPS File and How to Convert WPS to Word for Free

WPS is a file format, similar to text documents, created by Microsoft Works Word Processor. This file is homogeneous to the Doc files created by Microsoft Word, but with limited composition options, and didn't allow macros to be inserted in the document. This type of format was terminated in 2006 by Microsoft, with (*.doc) being the new format having newfangled formatting options. In 2009 Microsoft announced the retirement of Microsoft Works, with Works 9 being the last version. In the....

WPS PDF on the WPS Premium Free Trial

WPS Office is a powerful alternative to Microsoft Office for producing and editing documents. Templates for various types of documents, presentations, and spreadsheets are provided at no cost. WPS Cloud, a service for sharing documents, is also a part of this package. You can download the WPS Office Premium, including a PDF tool 30-days free trial available to new customers. It's 90 days free in the Thai version. WPS is best known for its office suite WPS Office, but the company also o....